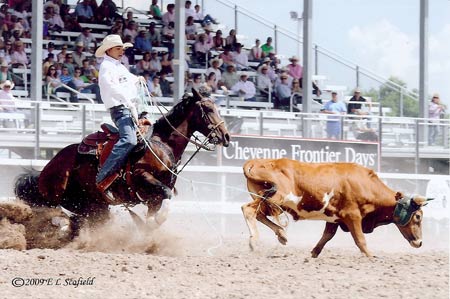 Cesar de la Cruz and Annie Oakly seal the deal on their second win at Cheyenne Frontier Days
Cruz de la Cruz
Hi I'm Cruz de la Cruz a profesional team roper of Mexico. George Aros is the best roping teacher and idol I have ever had because of the techniques and styles he taught me. Now I teach other ropers, beginers or advanced, the same techniques and different styles. George, thank you for all the patience, ropes and time you invested in me.
Moses Ramos
George Aros has to be one of the largest inspirations of my young life. He helped take my roping capabilities and horsemanship further then I knew I could. He made me confident inspired me to always go for the win, and to continuously practice until It was right. At Aros Ranch the quality doesn't end at the roping pen. There are always great horses and plenty of hospitality to be had. I highly recommend this facility to anyway wanting to exceed to their highest possible capability.
'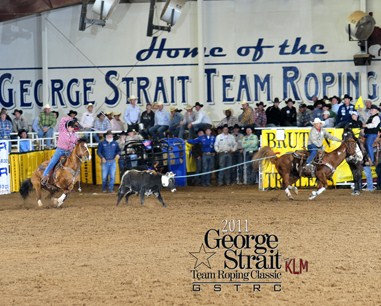 Clint Harry and Blackburn
We purshased "Blackburn" from George as a 4yr old in '02. When we bought him he was a liitle green but George's training program had him equipped with the foundation that made it easy for him to transition into being a solid rope horse and a proven winner at PRCA rodeos as well as in numerous other roping associations.
"Blackburn" is now 12 and has been the #1 Heel Horse in my string for sometime. When it comes time to replace him we will definitly look at what George has to offer. Knowing that his horses have been in his training program since babies and have been trained with the confidence and consistency that it takes to be able to haul and compete on these horses at a high level. Thanks again George!!!

--Clint Harry, Fallon, NV
Earl Cooper
I have known George and roped at his place in Picacho AZ for years. My brothers and I meet there annually to kick dirt around with the toe of our boots, talk a couple of hours, rope a little and then go to lunch. Sometimes that makes a full day for us. It doesn't bother George. He'll rope as much as we want and/or he'll eat as big a lunch as we eat. His rules are simple:
start early while it's cool
treat the horses good (be kind)
know how to use a rope safely
be able to ride a horse at a canter while swinging a rope
George said that I barely qualified!
I first met George after having purchased a saddle at the National Finals Rodeo (NFR) in Las Vegas. I spent five days at George's place and the saddle was giving me fits. I couldn't get it adjusted to my liking…not worth a damn. However, when George got in the saddle, it seemed to fit him fine. So, I suggested that he take the saddle and let me rope free at his place until I had used up the purchase price of the saddle. He agreed. It has been a good deal for both of us.

Nevertheless, the most loveable thing about George is the way he works with the young people, mostly, the young men in his neighborhood. They hang around the roping arena and George says: "I'll teach you how to rope, but you have to work around here." They work, George loans them a horse, and they get roping lessons.

About five years ago, he agreed to take three of the young guys with him to Reno for the Bob Feist Invitational. However, he told them that they had to be passing all their classes. Come to find out, two of the boys were not passing English. So George drove the boys to school, met with their English teacher and asked what they would need to do to pass the class. The English teacher explained that they would need to write two stories and their grammar and punctuation would have to be correct for a passing grade. George sat with the young men and helped them write acceptable papers. They all went to Reno.

Again, I hope you take the time to get to know George, spend some time at his place or at least go to one of his ropings.
Earl Cooper
President, George Aros Fan Club