Celebrating 30 Years of Monday - Friday
Team Roping Practice Sessions

Winter Hours 1pm - 3pm
$25.00

We've got slow cattle, we've got fast cattle, we've got a non-dusty arena.
We've got folks roping 5 days a week. Come join the fun.

We don't know of anyone, anywhere that has that long a history of offereing 5 day a week roping practice sessions. We rope year round, with summer sessions early to beat the heat. If you want to rope, you can rely on Aros Arena to welcome you. We usually have 10 or more team ropers show up every day.

The arena is specially designed to maximize ease of use, so practice sessions run smooth, with plenty of runs. We run slower cattle for our team roping practice, allowing you to focus on your horsemanship, position and throwing technique.
It's Official - Aros Arena's Senior Day Care is Open Mon Wed & Fri 10:00am to Noon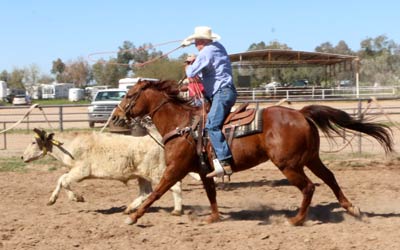 People have been joking about roping practice is a little like senior day care, so we decided to make it official. We now offer roping practice specifically taylored to the 60 year old and up crowd on Mondays, Wednesdays and Fridays from 10-12. Of course seniors are welcome to stay for the open roping practice that starts at 1pm. (maybe after a snack and a nap??)
Senior Practice: For people who don't like to be hurried and don't like to be kept waiting!
Team Roping Practice Lets You:
Sharpen your skills before a team roping competition
Find a new roping partner
Work out the kinks in your new rope horse
Try out a horse you are looking to buy
Practice what you learned in roping lessons
Hang out with friends in a relaxed, welcoming environment
Monday through Friday at 1:00pm (winter hours) - Family Friendly!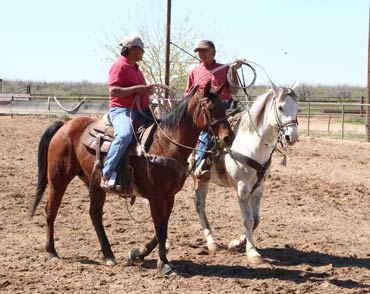 For information, call George - (520) 241-2241
Aros Arena • S Picacho Hwy. • Picacho, Arizona
copyright 2015 - George Aros
home | about | cervi roping | team ropings | team roping practice | lessons & training | boarding | cattle | hay brokerage