George Aros is a second generation rodeo and horse professional. Born and raised in Tucson, AZ, he went through the Junior Rodeo ranks, on to High School rodeo and then the college circuit at first Central Arizona College, then the University of Arizona where he studied Agriculture. In 1981, on his second trip of four to the National Finals Rodeo, he won a championship.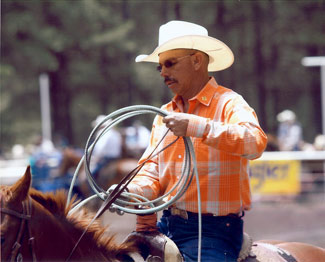 After four years on the road, George settled back down in Tucson and established a training and lessons program. In 1995, he moved his operation to Picacho, AZ in order to expand. From that central location, he now focuses on producing ropings, and sharing his expertise through lessons and training.
Ropers from novice to pro credit George for their success in the arena. Top ropers and NFR qualifiers Cesar de la Cruz and Victor Aros learned how to win with George. To date, he has made three horses at his Picacho facility that have gone on to be NFR qualifiers.
George and his wife of 30 years, Tracy, welcome you to the Aros Ranch.