AND THERE I WAS……….
And there I was after four days, one day of scouting out the area and three days of hunting with my good friend Aldo Garibay from Caborca, Sonora, Mexico and my good nephew, Jake Thorton, from Tucson. We decided that there were no Coues Deer in the area we were in, so we called upon another friend Jason Olson. He lives in the area and has a passion for locating deer.
He drove us around his neighborhood to show us the area where the Coues are from. It was only minutes when he said "Stop, back up" as I did he said "look under that palo verde tree!". Underneath at 103 yards was the first coues deer I had seen in 3 ½ days of looking. It was a small 3 by 2 with a decent main beem, no eye guards at all. We choose to pass and moved on. In the next canyon over (with the aid of my 15/56 Swaroskies and my Manfroto tri-pod) within minutes I glassed up a nice little spike and several does. As it was getting dark we went back to look to see if the 3/2 was still there. We saw him standing 10 feet from the bed he was in. Aldo and Jake had to be back and since it was Sunday I needed to go home too.
The next day, after I did what needed to be done at my ranch, my good friend Jim Deal (who had just arrived from Oregon for the winter) came over with his tri-pod and binoculars and we headed back down south to meet up with Jason Olson. He took us back to where we had seen the 3/2 and again within minutes Jason said "Look here another buck but this one appears to only have one antler". So I zoomed in with my optics and at 250 yards in the shawdow it appeared he was right. I pulled out my gun (.270 with 130 gr core lokt) and was going to do it, but I couldn't! At last gasp I choose to pass!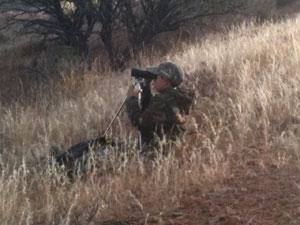 After dark Jim and I stopped by Wisdom's and enjoyed a fantastic dinner and then traveled home. My last day again I did the necessary things that needed to be done at my ranch and headed back down to Rio Rico to meet with Jason Olson. We loaded our gear in his 2 seater quad and went back to the area where we had seen the one antlered deer. Jason had a feeling he would be in the next canyon over so we went there to glass first. We carefully glassed the Southside of the canyon and did not see anything so we went around to the top of the ridge and looked. Right away at 600 yards Jason said "there he is!!" Sure enough the deer was almost directly below where we just were. Jason guided me around the Southside of the canyon until we were 220 yards from the deer. The wind was in our favor and he didn't know we were there. After putting my lenses on him I could now see that he did actually have a right antler but it was deformed.
We moved in about 30 yards closer , I put down the pistol grip that holds my Swaroskies on my tri-pod and used it for a perfect rest. I squeezed one off. A perfect shoulder shot!! We made it down to discover a very unique set of antlers.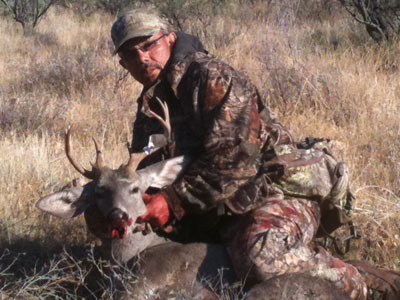 The left one was typical, a good main beem, short 2's and 3's and eye guard. The right antler was deformed almost like it had an inside kicker with small 2's and a long eye guard. Anyway, a special buck. After a hard, for me at least, trip back up the canyon Jason and I headed to his house to load my stuff and go home. I stopped by my Uncle JJ Gastelum's house, a place with many childhood memories. We hung up the buck and washed him off. This was a memorable hunt. It is always fun creating adventures and memories with family and friends.
George Aros