One on One Lessons to Accomplish Your Goals
Philosophy George Aros's philosophy is that the is no exclusive right way to rope. He doesn't change your style, but instead finds the way to make your style work better for you. With a seasoned eye, he can evaluate both your moves, and your body mechanics, then tune them up for success.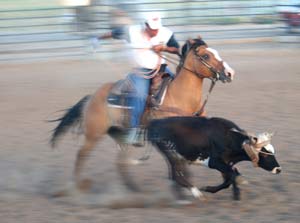 George says, "Different people have different physical abilities. Height, weight, age, even old injuries can all contribute to how you are going to throw a loop. Rather than tell some one they have to do it my way, I work with what you've got. It's never to late to adjust your technique. After an injury, I had to change my own style. And you know what? I'm back to roping even better!"
Horsemanship George teaches his clients better horsemanship skills. He teaches you how to ride your horse, and understand your horse's needs and talents. He looks at your riding, and even your tack. Something as simple as a bridle change can make vast improvements. He also teaches you where you need to be to get the best shot. Being in the right place can make catching so much easier.
"So many amateurs put themselves at a disadvantage by not getting in the right position. Heck, even a top pro wouldn't be able to catch from where I see a lot of folks throwing."
Team Roping Practice There is no doubt about it, team roping is a precession game, and the only way to get good is to be willing to throw a lot of loops. Whether on a dummy or from your horse, you have to work on it to create muscle memory.
Aros Ranch has Team Roping Practice Monday through Friday starting at 1:00 pm. It's the longest running, continuous team roping practice schedule anywhere. If you want to practice what you learned in your lessons with Georger....you can count on Aros Ranch to be the place.
Aros Ranch offers year round team roping practice sessions M-F.
George says: "Even after all my years, if I want to be at 100%, I'll spend 30 minutes a day for two weeks solid on the roping dummy."
How Can Roping Lessons Up Your Game?

Dear Ropers,

I have always had a little ability to rope either end, but was never at the next level till I met George. It was the best lesson I had ever taken part of. George seen the holes in my game and helped me fill them in with proper horsemanship. Overall he general helped me with a proper mental game of practicing right. Each time I rope now, mentally I'm there and rope each steer like it meant something and have fun doing it. Results showed 1 week with George. I went to a roping in Marana and with all I learned I walked away with the Hi-point horse trailer! Plus I had a great successful winter in Arizona thanks to George. Now I've been winning everything up here this spring. In Canada's biggest roping I won 2nd in the 11, 2nd in the 13, and 4th in the 15.

I will be back surely again to learn more and highly recommend all levels of ropers to stop in and rope with George!

Bobby Louis
Canada

Bobby Louis won a trailer after a week with George...What will YOU do?
Horse Training - Now accepting a limited number of outside horses
It's time to get that performance edge so that your horse is ready for the winter season. George can break bad habits, or put the finish on your new prospect. All horses are evaluated upon entering training, and you will get a no bull status report as training progresses.

monthly • 90 day • 6 month rates

**multiple month discounts available when paying up front.

Take a look at this gelding we have been working on for under 60 days. He had just been started riding, and is already showing that he can be an outstanding prospect
Starting in May -- Summer Package Rope Horse Training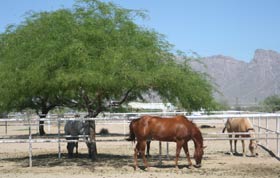 Accepting a limited number of horses. In our specialized, six month program, we accept broke, well mannered horses, and teach them to be rope horses. We prefer to start them from scratch. Book early to get your horse in for sure. You'll be ready to win.
Newly built pens are safe, sturdy, dry and shaded.